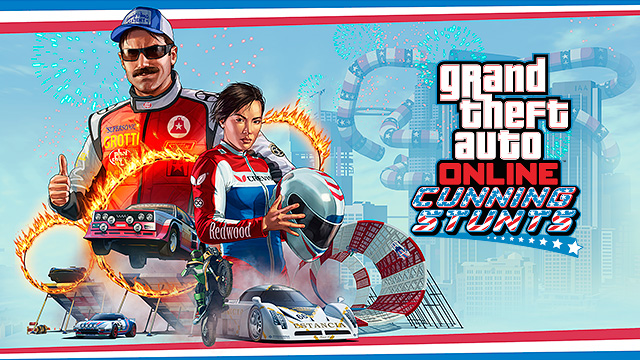 The latest free DLC for GTA Online is out now in the shape of Cunning Stunts. Good news for everyone who likes to perform stunning... stunts in the game.
Quote

Cunning Stunts takes GTA Online racing to epic new heights with a series of 16 brand-new, high-octane Stunt Races that feature everything from winding tubular tracks amongst Los Santos' tallest skyscrapers to technical courses through canyons, over water and across the desert. Stunt Races utilize ramps, loops, wall rides, tubes, raised tracks and dynamic objects for a radically new take on GTA Online racing.
Of course there's also the usual addition of brand new cars, clothing, accessories and whatnot. Unfortunately there's no way to create your own stunt races yet, though Rockstar have pointed out that this will be forthcoming on the 2nd of August, as well as more races and vehicles.
If you want to win yourself some GTAV merch then Rockstar also have a sweepstakes open right now you can enter. If not, you could watch the trailer below, or you could read the full details on this update, or if that's not your thing there's always the full detailed patch notes.