(Fresh pics to follow.)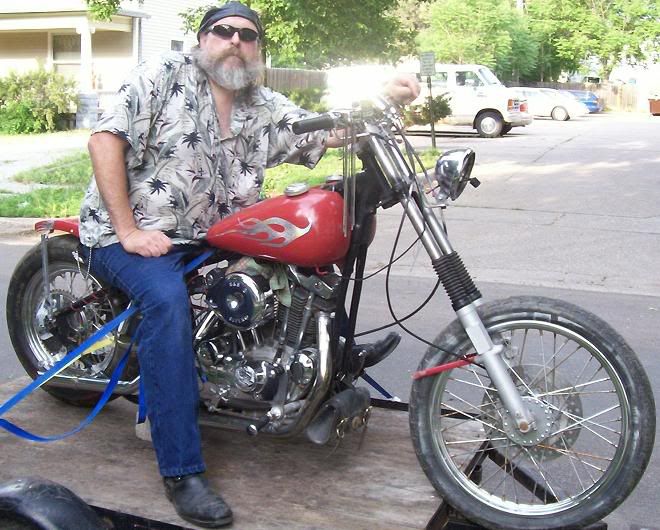 I won't go into detail as to why, but things in my life have recently changed. I decided the best way to deal w/ this is
something I should have done years ago but was too tied w/ responsibilities & obligations to do. For years people asked
"Where's the Harley?" I would just smile & point at the girlfriend's grandkid or whatever else always seemed to pop up.
Then I heard about a project bike, needing work but relatively cheap. I met the guy & checked out the bike & in just a
few minutes struck a deal & shook hands. Originally I was looking to build something like a Zombie but this one just
felt right. The name, Vengence, just jumped out to me & fits.
He wanted $3000 & we kicked it back & forth, found out he was interested in a '93 Jimmy I had & decided it was worth
half, great for me as I got the Jimmy out of some trading last year & was actually $50 ahead on that one. To top it off
his neighbor wants my '63 Rambler so that puts some on my cash back in my pocket & my final cash outlay at under
$1100. No one I know remembers the last time anyone found a Harley basket case for under $3000, let alone one
that was fairly complete & nearly running. Ironically, the plates on the Jimmy expired the day after the deal was
completed.
Frame - '82 Harley XL, converted to "weld-on" hardtail. Husky compared it to Johnny's Hexer & it would be a pretty easy
build to build one starting here, just re-angle the gooseneck (where the front forks attach) & add the springer front end.
Engine - Early '70s Harley XL 1000 AKA Sportster (good eye Huck), warmed over just a little w/ S&S carb & intake. The
cams may also be S&S parts & the bike is reputed to be fast. Allegedly dynos out to 85 HP +/-, real good for oldschool
60 CID twins.
Other details - "Fat Bob" gas tanks, drag bars, drag pipes & custom "solo" seat (note the lack of rear seat or foot pegs,
those will have to be earned).
Problems needing attention - At first glance it looks complete, but on closer inspection various systems need to be
re-assembled like the brakes, fuel lines, wiring & a few other details. The starter is also busted & needs to be pulled,
possibly a project for this weekend (sick lately & depends on weather).