This is going to be a huge list of all the secrets and easter eggs found in San Andreas, Hopefully we will get a whole lot of members posting where the secret is and preferably some pictures of it too if possible.
I will be posting some pictures later of course, and this will also be going on the main site too.
1 - No easter eggs sign
Up on top of Gant Bridge there a sign ironically reading "There are no Easter Eggs up here, go away!"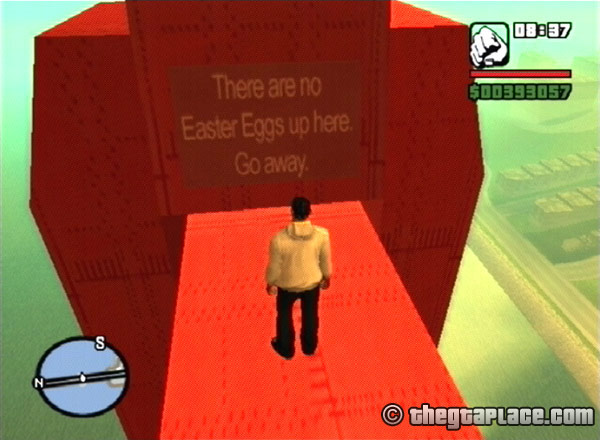 2. Area 69
A spoof on the real life military base Area 51, supposedly involved with extra-terrestrial lifeforms. It is also heavily guarded like the real life base, and also, shares its name with the sexual position.
3. USS NumNutz
The name of a submarine in the San Fierro waters
4. Unmarked Pay and Spray
There's a pay n spray in Las Venturas which Rockstar have left in the game however it is not marked on the map for some reason.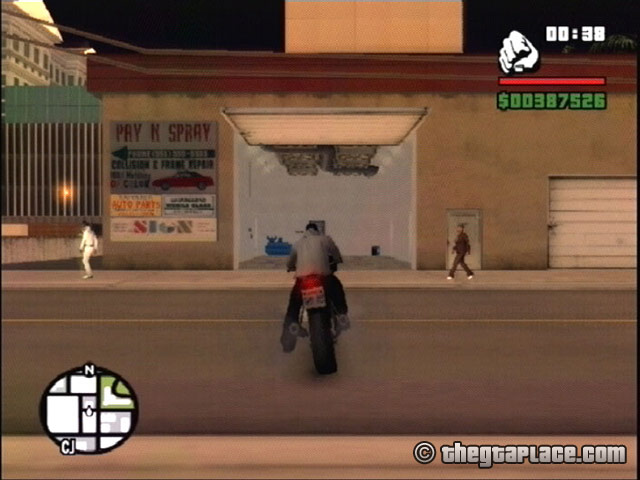 5. Hippy Shopper
Rockstar having a bash at real life shopping chain 'Happy Shopper'
6. Rockstar Merchandise
Go into Zero's RC shop and see Tommy Vercetti, Lance Vance and James Earl Cash (from Manhunt). There are also RC version of Hydras, Rhinos and NRG-500s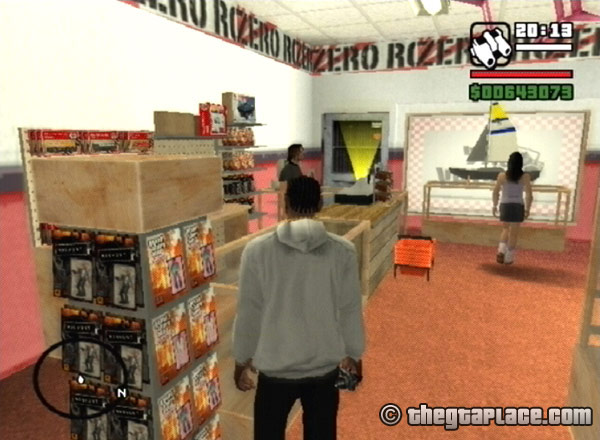 7. - R.I.P Opposition 1997-2004 Gravestone:
At the War Memorial located in San Fierro near the Hippy Shopper, near the top of the war memorial you will see the gravestone that reads 'R.I.P Opposition 1997-2004' referring to rival game companies attempting to create better games.
8. World Largest Cock
Obviously there's a sexual innuendo here, but it's also relating to the stupid 'world biggest' records people try to achieve.
9. V-Rock Hotel
Relating to Vice City's V-Rock station where Lazlow was DJ, and also in real life to the Hard Rock Cafe.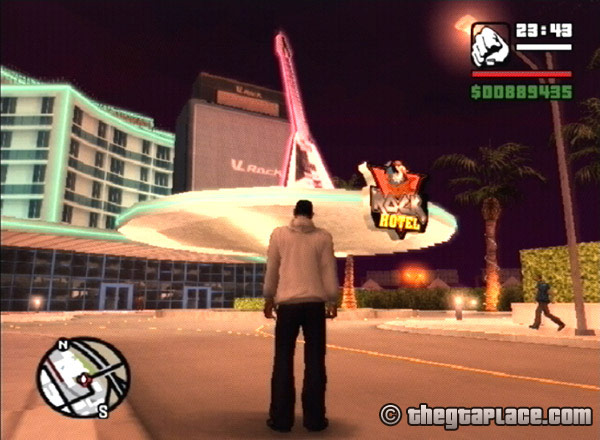 10. Remeniscient Poker Cards
The cards on the Video Poker machines in the casinos are pictures of characters from the GTA3 and VC.
11. Self Pleasure Statue
If yo go into the Plaza in Los Santos you will notice the statue in the center of the square is pleasuring himself. the other statues around him look on in shock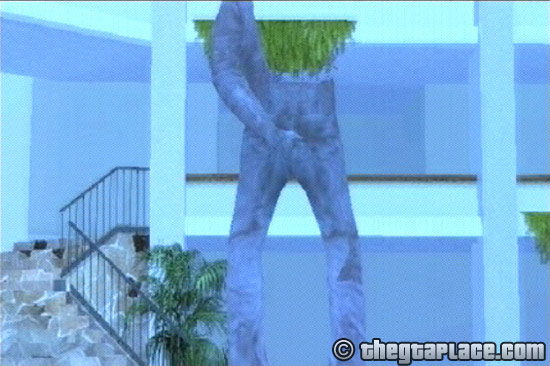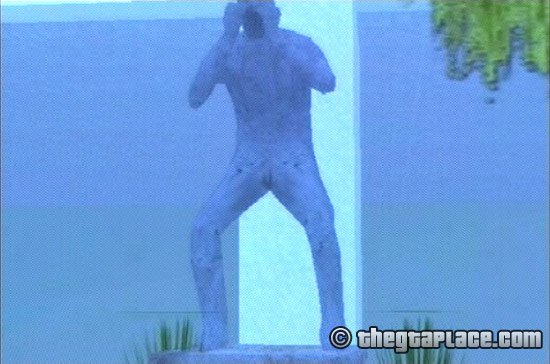 12. True Grime billboard
At Unity Station there is a billboard advertising True Grime, this is relating to the crappy game that was True Crime: Streets of LA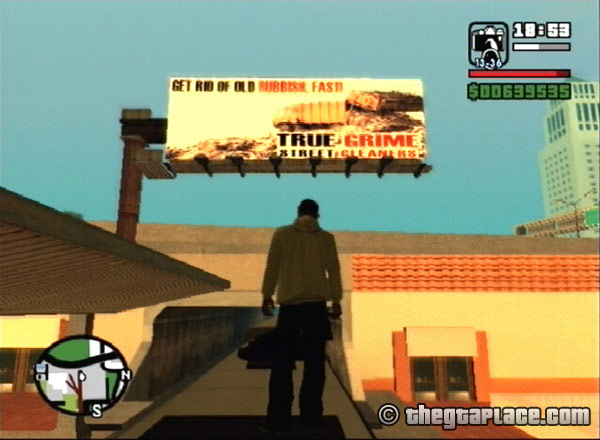 13. North Rock
Paying homage to Rockstar North, there is a place in San Andreas called North Rock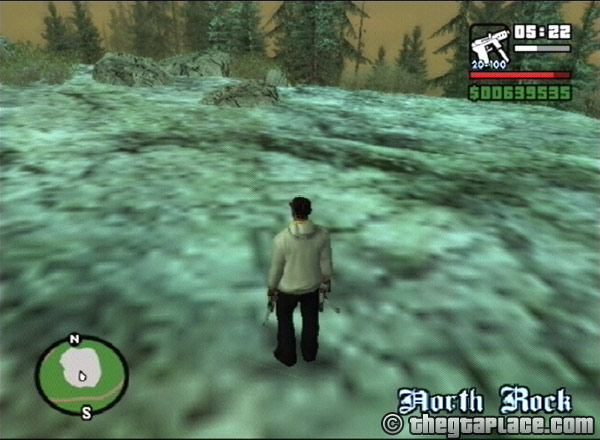 14. Jesus Saves
There is a wall in Los Santos with a drawing of Mary and Jesus Saves written next to it, this is referring to GTA2 where the building where you saved the game said this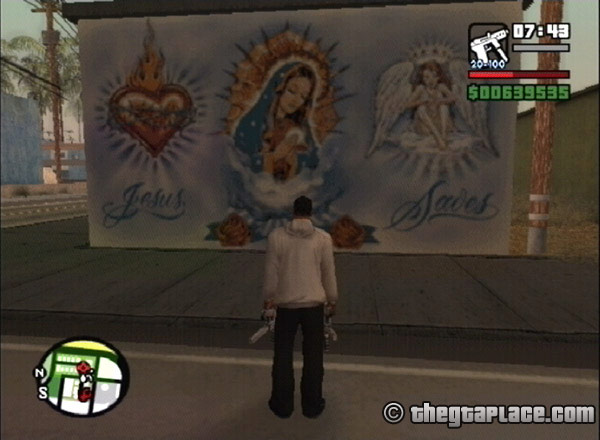 Non-Location Specific:
1. Rogue Magazine
Seems to be taking a stab at Vogue magazine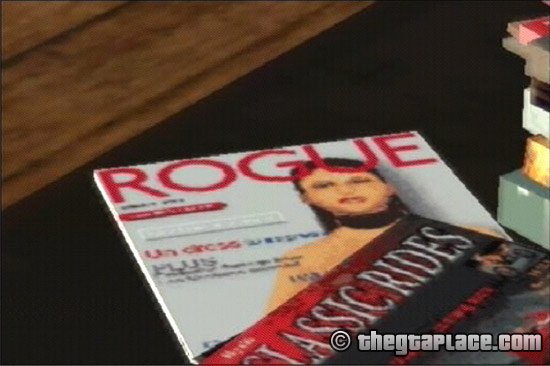 Note: This list is constantly being updated