UPDATE:
The Android version of Vice City is currently taking a massive hit with 1-star ratings coming thick and fast from unrelenting and annoyed Android users. Due to Google Play's ridiculously low filesize limit on apps, developers who wish to put out large games are forced to make users download "expansion" files upon first launching the app. It is this secondary download which is failing for what appears to be almost everyone who has installed the game, with "XAPK validation failed" messages. Hopefully Rockstar and developer War Drum Studios will be able to get a quick update out to fix this issue. Meanwhile, iOS users are enjoying a flawless experience.
UPDATE 2:
The Android version has now been removed from Google Play for the time being...
Grand Theft Auto: Vice City 10th Anniversary Edition is now available to
download on the iOS App Store
and Google Play
worldwide, or will be very shortly if it is not yet 6th December in your part of the world. Here's a few details about the game from the iOS App Store:
To celebrate its 10 year anniversary, Rockstar Games brings Grand Theft Auto: Vice City to mobile devices with high-resolution graphics, updated controls and a host of new features including:

• Beautifully updated graphics, character models and lighting effects
• New, precisely tailored firing and targeting options
• Custom controls with a fully customizable layout
• iCloud save game support
• Massive campaign with countless hours of gameplay
• Support for Retina display devices
• Custom iTunes Playlist*

*To listen to your custom playlist, simply create a playlist titled "VICECITY", launch the game, and select the radio station "Tape Deck"
iPhone Screenshots:
Click to see full size 640x960.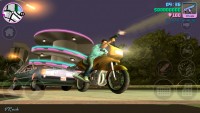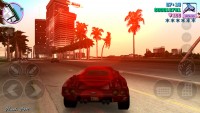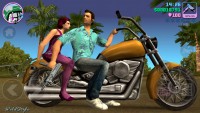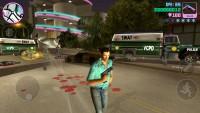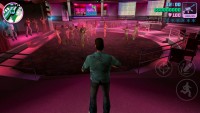 Download Links:iOS:
App Store
- $4.99 / £2.99 / €4,49 - 1.0GB download size
Android:
Google Play - $4.99 / £3.74 / €3,81
Are you already playing it? Let us know your thoughts in the forums.
Device Compatibility:
Apple iOS Devices: iPad, iPhone 4, 4S & 5, iPod touch 4th & 5th Generation

Android Phones: Motorola Razr, Razr Maxx, Razr Maxx HD, Motorola Atrix, Motorola Photon, Motorola Droid Bionic, HTC Rezound, HTC One X, HTC One S, HTC Evo 3D, HTC Sensation, HTC Droid Incredible 2, Samsung Galaxy Nexus, Samsung Nexus S, Samsung Galaxy Note 1 & 2, Samsung S2, Samsung Galaxy R, Sony Xperia Play, Sony Xperia S, P, T & TL, Sony Walkman Z Series Media Player, Samsung Galaxy S2, Samsung Galaxy S3, Google Nexus 4

Android Tablets: Acer Iconia, Asus Eee Pad Transformer, Asus Eee Pad Transformer Prime, LG Optimus Pad, Medion Lifetab, Motorola Xoom, Samsung Galaxy Tab 8.9 / 10.1, Samsung Galaxy Tab 2, Samsung Galaxy Note 10.1, Sony Tablet S, Sony Tablet P, Toshiba Thrive, HTC Flyer, Google Nexus 7, Google Nexus 10