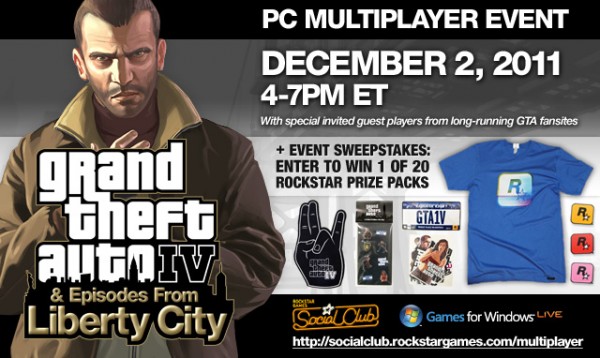 Tomorrow marks the third anniversary of GTA IV's release on the PC. To celebrate, Rockstar are holding another special Multiplayer Event featuring themselves as well as various webmasters from some of the long running GTA fansites. The event takes place tomorrow, 2nd December from 4-7PM Eastern Time (that's 9PM to 12AM GMT) and both GTA IV and Episodes from Liberty City will be played. I myself will hopefully be playing a few games, my gamertag along with all the other webmasters participating is listed below, so feel free to add any of us and we'll try and get you into a game!
For more details including R* gamertags and information on the sweepstakes, head on over to the
Newswire post
. And don't forget, if you can't join in the fun, you can always watch the live stream of the event on the
Social Club
multiplayer page!