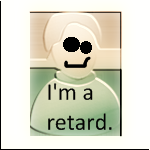 The quick profile view thingy doesn't work in Linux...
Started by
Damjan
,
May 28 2010 03:08 PM
Posted 28 May 2010 - 03:08 PM
Whenever i click on it, from any browser possible(Opera,FF,Chrome), it still doesn't open.
Screenshot:
---
Posted 28 May 2010 - 04:26 PM
I would guess its a scripting malfunction, the website doesn't support your browser. See if there is any compatibility mode's in your browser. If not, use the old good Internet Explorer. Works like a charm

---
Posted 28 May 2010 - 06:37 PM
IE does NOT work like a charm, never has, never will do, and we do not support that browser

And besides, it's only for Windows.
I dunno, if I get time I'll look into. Linux only accounts for about half a percent of visitors so it's not really much of a big deal at the moment.
---
---
0 user(s) are reading this topic
0 members, 0 guests, 0 anonymous users