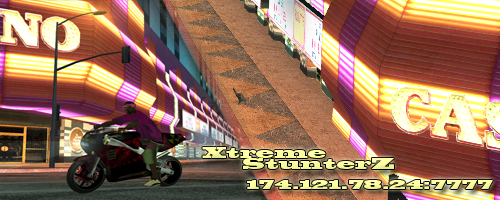 Xtreme Stunterz is a stunt server created by a webdesigner and an samp mapper/scripter,we launched the server as beta And In 4 Days We reached almost 400 registered without hosted list or advertising! The server gets upgraded almost evry day with new maps/bug fixes so join our server today!
~~~[Features]~~~
-inf nos system
-auto repair+bodyrepair
-admin and user control panel :
http://www.xtremestunterz.info/Panel/
-great admin system
-random facts ingame
-fully mysql based adminsystem
-irc bot/system
IRC_Server=irc.sa-mp.com
irc_channel=#XSZ
24/7 hosted on a dedicaded server sponsored by www.frostbytez.com
-lots of commands:
=====================================[COMMANDS]====================================");
Player commands:/register /login /changepw /kill /class /para /animlist /jetpack
Usefull:/class /para /animlist /jetpack/afk /back /savep /loadp /helpmeup
Usefull2:/admins /me /kill /report /Stats /votekick /voteban
Vehicle commands: /pcar /pbike /Flip /lock /unlock
-teleports:
"=================================[TELEPORTS]=================================");
STUNTZONES: /lvair /home(sfair) /aa /sfair /lsair /beach
SKILLS: /gokarting /bikeparkour /bikeparkour2 /bikeparkour3 /quadparkour /infchallenge
CARDM's: /knockoff /sumo
Fun: /mowerracing /bounce /bounce2 /xtremepier /halfpipe
BIGJUMPS: /bigjumpls
OTHERS: /skatepark /bikepark /drift(1-5)
DM: /containerdm /ak47dm
-an unique full flash website+forums:http://www.xtremestunterz.info/
-some other never seen features
~~~[Information]~~~
HostName: [0.3]..::[Xtreme StunterZ]::..
Address: 174.121.78.24:7777
Players: x / 500
Ping: x
Mode: Stunt•DM•Drift•Race•Freeroam
Map: xtremestunterz.info
ScreenShots
want to see more? visit us at 174.121.78.24:7777 today!!
YOUTUBE VIDEO'S
http://www.youtube.c.../XtremeStunterZ
If You Joined From This Post Let Us Know

Were Working Hard To Bring New Maps To You All
Edited by CadBane, 21 May 2010 - 01:36 AM.