Ballad of Gay Tony fan art
Started by
Chris
,
Aug 15 2009 11:18 AM
Posted 15 August 2009 - 11:18 AM
Patrick Brown
is back with some more amazing fan art, this time for The Ballad of Gay Tony. Check it out below.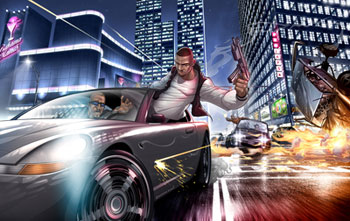 ---
Posted 16 August 2009 - 08:21 AM
Always impressed with this guy's artwork, can't wait for actual game details and the trailer.

---
Posted 17 August 2009 - 10:15 PM
He always creates such great pieces, I'm definitely a fan. The sheer amount of time it must take, for EVERY image he makes, is mind-boggling. I'ma see if I can get his PSN name, and send him a request.

'Why did I move here? I guess it was the weather'
---
---
0 user(s) are reading this topic
0 members, 0 guests, 0 anonymous users