Kings Of East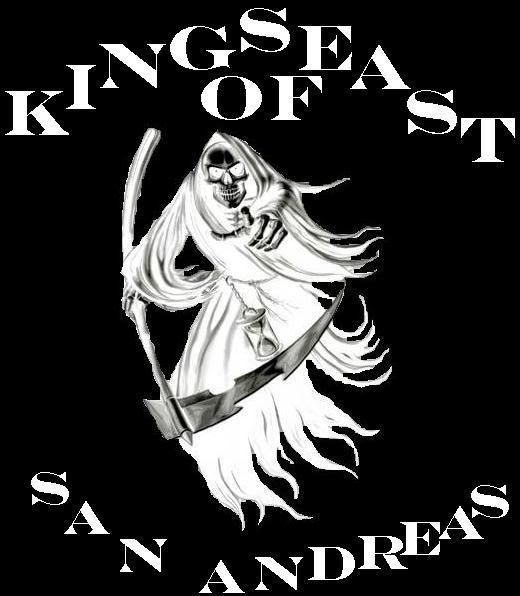 President: Casper
V. President: Vacant
V.P. Right Hand: Vacant
Sergeant At Arms: Vacant
Treasury: Vacant
Special Skills Leader: Vacant
Foreign Affairs Leader: Vacant
Enforcer 1: Vacant
Enforcer 2: Vacant
Enforcer 3: Vacant
Enforcer 4: Vacant
Enforcer 5: Vacant
Prospect 1: Vacant
Prospect 2: Vacant
Prospect 2: Vacant
Prospect 3: Vacant
Prospect 4: Vacant
Prospect 5: Vacant

Rules For Recruitment

* You must have been a member on The GTA Place Forums for at least 30 days
* You must have at least 100 posts on the forums (as shown in your post count)
* You cannot already be in a gang (but you can leave your current gang)


Gang History

1967, Earl "Big E" Smith and his brother Jerry "Jay" Smith started the Kings Of East motorcycle gang in East Los Santos, San Andreas. They started to grow as they smuggled arms into San Andreas. Supplying themselves and the Grove Street Families with various guns. After the big gang war between Grove Street Families and the Temple Drive Ballas in 1982. The Kings Of East took over most of the Ballas territory, because they had more guns and men. In 1990 Big E had a son named Russell "Casper" Smith. In 1998 Jay died and in 2006 Big E died, both died in motorcycle accidents. In 2007 Casper took over the gang and now is the President of the gang. And to this day Kings Of East and Grove Street Families are allies. The Kings Of East's rival gangs are the Ballas & Northern San Andreas Mayans motorcycle gang.



Just Post In This Topic If You Are Interested In Joining. All New Recruits Will Be Prospects, Unless I Know You And You Are
Respected By The GTA Place Forum Members. Thank You!